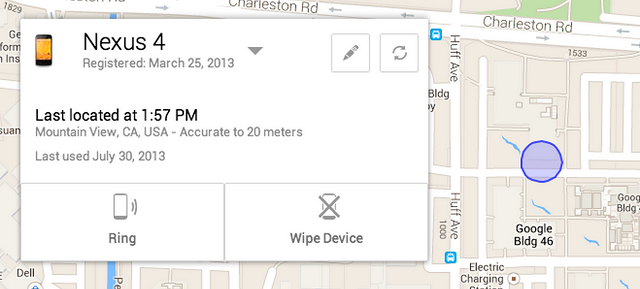 As we told you at the beginning of this month Google launched a new tool for Android smartphone users called Android Device Manager. This new feature allows Android users to track their device using the internet and find out their location in case they have lost it. They can also wipe data from the device or play a tone on it. This new feature of Android is very similar to Apple's Find My iPhone feature, which provides the same functionality to iOS users.
Now as this feature has started to become available for general public now is the time for you to configure Android Device Manager on your device so that you can track it down in case you lose it. There is no reason for you to not configure your Android smartphone to take advantage of this feature as it is totally free and adds a pretty nice feature to your device.
Read More: HERE'S EVERYTHING YOU NEED TO KNOW ABOUT THE NEW ANDROID DEVICE MANAGER
In order to learn how to configure and use the new Android Device Manager feature on your smartphone follow the steps below.
First of all you need to check if the feature is available on your device or not. As Google has recently started to roll it out chances are you might not have received yet. This feature is available to Android 2.2+ devices and a Google account is required for it.
Turning Android Device Manager on

Even if you have received the update that brings this feature to your Android device it will be turned off by default. You will need to turn it on. You can do so by going to Settings > Security > Device Administrators. There you will find 'Android Device Manager' option. Tap on the check box next to this option to turn it on.
You will now see a notification screen that tells you about the Android Device Manager feature. Simply tap on the Activate button to turn the feature on. That's it, the feature is now turned on.
Remember that for maximum protection you should keep the GPS of your device on so it can be tracked in case you loss it. You can turn the feature on while you head out of your house if you don't want to keep it on all the time.
Using Android Device Manager
Now as this new service of Android has been activated on your Android device you can use it with all of its features. Users who have turned on the Android Device Manager on their devices will be able to see it on . You will need to be signed in with the Google account you use on your Android device in order to access it in the Android Device Manager web app.
Once you are signed in on the URL above you will be able to track your device on the map provided the GPS or location services are on. If this feature is not on you will not be able to track it until it is connected with the Internet using WiFi or cellular internet.
Using the online web app on the link shared above you can not only track you device on the map but also wipe all of its data (in case you are hopeless of getting it back), ring a bell on it or check when the device was last recorded as active (which means when it was last connected to the Internet or tracked using built-in GPS).
You can learn more about the features Android Device Manager offers here.