In this post we will show you how to delete a restricted folder on Windows 8. If you have just bought a new hard disk or installed a fresh copy Windows 8 operating system in another drive then chances are that the files from the previous installation will be sitting right there in your hard disk taking GBs of disk space. The best way to deal with this situation is to delete the files from the older installation and free up space on the drive so it can be utilized for other purposes.
Not only older installation of Windows but there are certain files that cannot be deleted directly and you have to get yourself permissions in order to be able to delete them. Sure there are many ways to gain 'ownership' of the folder and delete it in this post we are going to share the most easiest and simplest method there is to delete a restricted folder on Windows 8, Windows 7 and previous versions of the operating system. Let's get started.
1 ) First of all you need to download the files in order to be able to delete a restricted folder on Windows. Go ahead and download the REG file from the link Download Link. Once you have downloaded it extract the contents of the folder.
2 ) Once extracted you will see two files at the point you used for extraction. Double click on the file named "Add_Take_Ownership". You will be asked if you want to add this file to Regedit tool, click 'Yes'.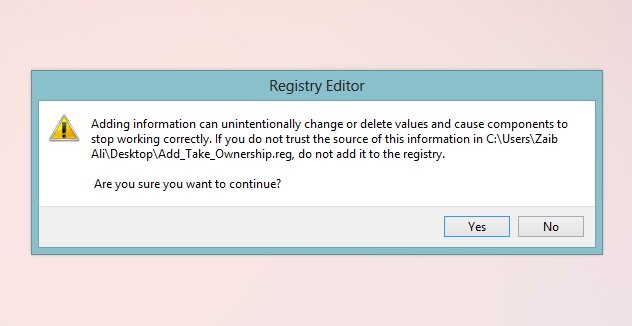 3 ) Now after the take ownership registry has been added to your operating system's Regedit tool you will see a new option that says 'Take Ownership' in the right click menu everytime you see it after clicking on the icon.

4 ) Now delete a restricted folder to see if this solution works for you. Right click on it and from the menu click on the 'Take Ownership' option.
5 ) Now your computer will grant you ownership of that folder and each and every folder and file stored in it. This might take a few minutes depending on the size of the folder. While the ownership of files is being changed you will see a MS Dos script running on your screen. It will disappear after the process is complete.

6 ) Afterwards simply delete a restricted folder you want to get rid off and it will get deleted like just like a normal folder.
Done! Optionally you can get rid of the 'Take Ownership' option that appears in the right click menu by adding the "Remove_Take_Ownership" file that is also included in the download link above. Enjoy!