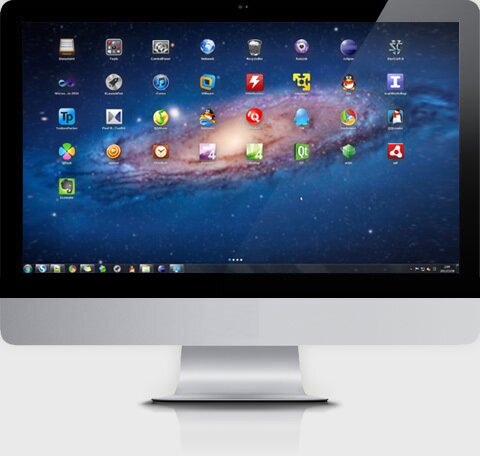 One of the most important and lovable features of Apple's OS X operating system for Mac is its launchpad feature. The LaunchPad feature was added in OS X with the release of OS X Lion. This features allows users to instantly access the their applications by simply clicking the icon that has a rocket made on it. The addition of LaunchPad feature not only makes accessing the apps and other tools easier for Mac users but it also saves space on the desktop and OS X's dock.
If you are a Windows 8 user who has been envying to have the LaunchPad feature of OS X on his or her Windows powered computer then you are in luck as we have found the right tool for you.

The tool is called XLaunchpad for Windows. It is a cleverly designed tool for Windows 8, Windows 7 and Windows Vista that brings (read: mimics) OS X's most lovable feature to Windows.
All that is required for XLaunchpad to work is simple installation process. After installation users will get their own Windows Launchpad that will give instant access to their apps, folders, Windows tools and more.
Not only does the XLaunchpad brings the option for users to store app icons but it also enables them to have OS X like folders as seen in the image below. To create a new folder within the XLaunchpad users can drag one app onto the other. To add files to already existing folders users can drag and drop the icon on the folder – just like they would do on a Mac.

That's not all. XLaunchpad is highly customizable and enables users to add whatever they want to their XLaunchpad. Users can create shortcuts to their favorite apps and most used folders. Another very useful feature of XLaunchpad is that it also has a feature using which users can place icons to their favorite websites on it and access them with just a single click. Not only that but the XLaunchpad also features options like shutdown, sleep, logout and close monitor.
XLaunchpad for Windows supports pagination, which means you can create as many pages as you want. This is very useful when you have to separate apps from one another. For example you would want to keep apps you use for work separate from the ones you have downloaded for pleasure such as games and entertainment stuff.
Accessing the XLaunchpad on Windows is super easy. Users can access it by taking their cursor to the top left side of their screen. This is similar to how the Start button on Windows 8 appears but in opposite direction. Alternatively they can launch the XLaunchpad by clicking on the icon in the Notifications area.
XLaunchpad is a free app and does not require anything other than simple installation. You can download it on your computer from here.