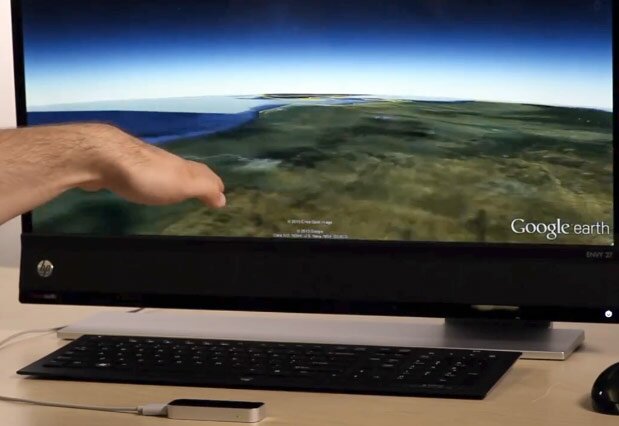 For us here at ETECHMAG Leap Motion is our favorite gadget for many reasons. Most importantly it brings something new to the tablet and features a technology that is affordable and accessible to everyone at an affordable price. As Leap Motion is a device that has very few limitations when it comes to getting integrated with softwares and has uses that would change computing forever.
Many popular app developers are developing or updating their applications in order to support this revolutionary device and Google has just joined the ranks. Google Earth recently received an update that brings gesture control to the desktop based application which can be controlled using the Leap Motion. Google made the announcement today in which it revealed that on the desktop users will be able to control Google Earth using 3D motion gesture controls through Leap Motion. Google also demonstrated how this integration would work by publishing a video on Youtube.
The Google Earth integration with Leap Motion device works quite nicely as it uses the Leap's API of hands free control of basic spatial commands. Users can zoom, spin and perform other functions simply by the movement of their hands as shown in the video below.
Leap Motion sent a developer unit to Google's team earlier this so they could integrate 3D motion sensor to its apps. Quite recently many other popular apps also added support for Leap Motion including Autodesk, Corel, Disney games and more.
While Google Earth integration is a great news it would be interesting to see if Google adds support for Leap Motion and other similar motion sensing devices to its web based applications such as Google Maps and more.
Leap Motion ships to general public next month whereas the developer units have been shipping from few months now.